Conversation Starters for Networking
Sure, you can talk up a storm. You might even be considered the chatty at work. But, the most outgoing person may have trouble walking up to a complete stranger and striking up a conversation. This is a common concern when attending career or networking events. Don't fret; we have some great conversation starters for networking. Simple yet effective ways to break the ice for even the shyest person.
The First Thing You Say
Pass a Compliment
If someone is wearing an interesting tie or beautiful piece of jewelry, use the opportunity to offer a compliment. Often the person may have one the piece as a point of interest. This friendly gesture can make you seem more approachable.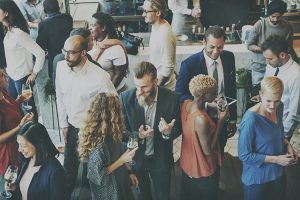 Comment about the Food
If there is food or a bar at the event, casually make a statement to someone about the food. Remark about something you liked or haven't tried yet. Make sure to only do this if you actually like the food.
Chatting in Line
Waiting in the buffet line, or bar line, heck even the bathroom line is a perfect chance to strike up a conversation. You can keep it simple and even just talk about the waiting, make a funny joke. Keep it light and avoid complaining which may be a turn-off.
Just Say "Hi!"
As simple as it sounds, just walk up to someone and say hello and introduce yourself. It seems elementary, but it is a tried and true method to get someone talking. Just like talking to a friend, ask how they are and the conversation can run from there.
Trending Topics
Is it Super Bowl season? Was there just a massive snow storm or spell of hot weather? An interesting story you heard on the news? We only caution that you stay away from heated topics like politics.
State the Obvious
"Boy, it's hot (or cold) in here." "I always feel so awkward at networking events." Merely remarking about what is evident could lead to other points and a great conversation.
Keep it Going
How do you maintain the conversation after the first introductions? Ask the person what he or she does, or their hobbies or about music. People usually feel comfortable talking about themselves, plus this gives you an idea if you have common interests. From there, let the conversation flow. Just remember not to talk too much about yourself. The best way to be successful at networking events is to listen and really hear what people are saying.
Exit Strategy
It's that time; the conversation may have gone adrift or fizzled, or you need to refill your drink, and you're ready to move on, gracefully. Ask for their card, say you see someone you know and need to say hello, or even state that you are heading over to the bar or food display for a snack. Remember that it is a networking event and you are there to mingle and meet people.
In conclusion, there is one important thing to remember. While you may feel awkward engaging the conversation, more than likely the other person is relieved that you did. We at Associated Property Management encourage you to try any of these conversation starters for networking.  We are sure you can make the most of your event.